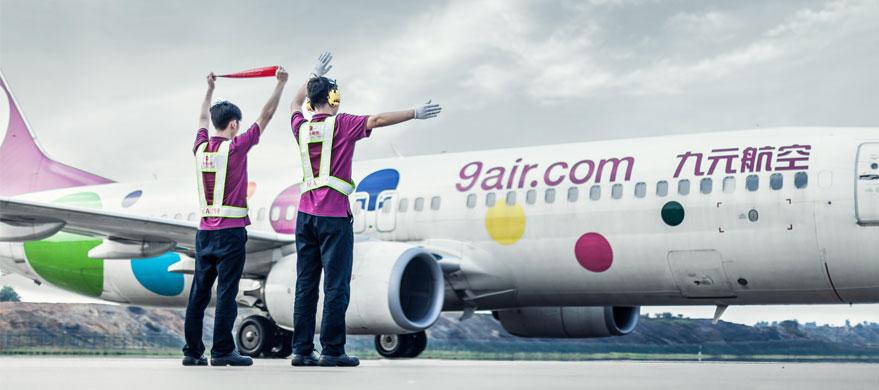 On October 2nd, 2018, 9 Air's first non-stop international flight from Guangzhou, Guangdong provincial capital in South China, to Mandalay, the second largest city in Myanmar, landed at Mandalay International Airport. This signifies that 9 Air, the first low-cost carrier in Guangzhou, officially entered the international market. The launch of the new air route will promote Mandalay international airport in developing more diversified Asian business and tourism premier air routes, further enhancing the status of Myanmar as Asia's aviation hub.
Ji Guangping, Chairman of board of 9Air Co Ltd, travelled on board the inaugural flight was greeted by Toshio Takahashi, President of MC-Jalux Airport Services, Lieutenant Colonel Zaw Min Thant, in charge of the Aviation Police of Mandalay International Airport, U Nyan Htun Oo, Assistant General Manager of the Department of Civil Aviation at Mandalay International Airport, and U Tin Myo Aung, Assistant Director of Immigration Department at Mandalay International Airport.
Ji Guangping said: "We are delighted to launch service to Mandalay, and the Guangzhou-Mandalay flight is the first international flight 9 Air opened. This exquisite city will be a popular destination for both business and leisure travellers, providing our passengers the opportunity to experience the unique beauty of the city. The launch of this new service comes at a time when we are expanding our presence in Southeast and Northeast Asia. We are exceedingly excited to be able to provide passengers the opportunity to visit this magnificent city."
9 Air operates the brand-new Boeing 737-800 on the new Guangzhou - Mandalay route, with one round trip flight every Tuesday, Thursday, and Saturday. The route details are flight AQ1001 departs from Guangzhou Baiyun International Airport at 12:05 and arrives at Mandalay International Airport at 13:40 local time. The return flight AQ1002 departs from Mandalay at 14:40 local time and arrives in Guangzhou at 18:55. The airfare starts from USD 23.99 plus tax, and the tickets can be purchased on global.9air.com, 9Air's WeChat, APP, and other OTA platforms such as Ctrip, Fliggy, LY.com, Tuniu, and Meituan.
The business and trade contacts between Myanmar and China are mainly conducted in Guangzhou. Myanmar is rich in natural resources, and tourists from Guangzhou and its surrounding areas frequently go to Mandalay for trade activities such as jade, timber and infrastructure construction. The launch of the first non-stop flight from Mandalay to Guangzhou greatly serves the needs of business travelers, family visits and general tourism between the two locations. The establishment of the air route further promotes exchange and cooperation in various fields between the two countries. Myanmar has started the new landing visa policy for Chinese tourists on China's National Day, October 1, 2018, providing another choice of visa-convenience for tourists from China.
Mandalay is the second largest city in Myanmar and a famous ancient city listed as an UN world heritage site. According to surveys conducted by Chinese travel agencies, Southeast Asian countries and regions such as Thailand, Singapore, and Indonesia are still popular destinations for people in Guangdong province when traveling abroad for vacation. With the improvement of living standards, Guangdong tourists are expanding their demand for more Southeast Asian tourism destinations. Tourist groups of the post-70s, post-80s and post-90s generations with good command of English are especially longing for the new special-interest scenic spots and in-depth quality tours in Southeast Asia. Southeast Asia not only has beautiful islands in the south, but also has ancient cities like Mandalay in Myanmar which have long and splendid cultures, world-class historic sites, and cultural appeal. The launch of the first non-stop flight from Guangzhou to Mandalay by 9 Air provides a new, affordable, and convenient choice to meet the diversified travel demands of the passengers in Guangdong, China.